Ensemble 'Harpers Bizarre'
Above, before appearing at the Lorient Festival August 2015 - L to R - Kirsty Clayton, Estelle Langthorne, Helen Ham, Honor Bouch, Anne Hughes, Sarah Deere-Jones.
'Harpers Bizarre' Harp ensemble was formed in 2004, and consist of students of Sarah Deere-Jones plus Sarah herself, who runs the Cornwall Harp Centre. They regularly meet at the centre and rehearse their unique repertoire of pieces especially arranged for up to eight harps, and eat large quantities of extremely good cake! They performed their first concert at the Penventon Hotel in Redruth in November 2004 as part of an exhibition by Salvi Harps of London, and were filmed by the BBC. Since then some of the ensemble members have changed and they have travelled across the world meeting other harpists and performing in public - a harp ensemble is great fun for players of an instrument who often find themselves alone! Since the ensemble's earliest days, sarah has published two books of pieces written and arranged for harp ensemble as well as arranging countless other pieces and producing their CD 'A cornish Pastiche'.
Below - Midsummer Concert 2010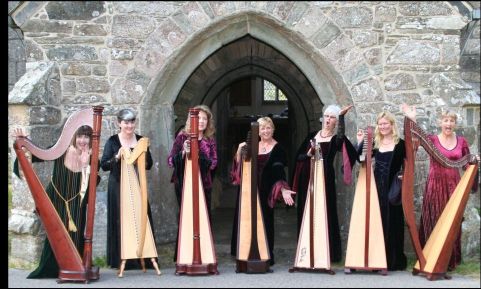 L-R, Morrigan Palmer Brown, Sue Rivett, Helen Ham, Honor Bouch, Anne Hughes, Francis Evans and Sarah Deere-Jones
Wales International Harp Festival April 2010

We were delighted to be invited to play in the thursday evening concert, and for a lunchtime concert at this prestigious festival- the Ensemble premiered Sarah's piece written for the Ensemble for 6 harps 'The Mermaid of Zennor'.

Left in the foyer at lunchtime, and right, on stage with the Welsh Folk Orchestra, from L-R- Morrigan, Helen, Honor, Anne, Francis and Sarah.
Their repertoire consists mostly of classical, traditional and contemporary music, producing a surprisingly varied mix of music for concerts, interspersed by solo contributions. In the past, they have been lucky enough to play in Caenarvon, Copenhagen, Seattle and Vancouver, Switzerland, Brittany, the Minack Theatre, Cotehele house, and a bit of pavement in Boscastle! They also produced their first CD 'A Cornish Pastiche' - a collection of music especially arranged and written for 7 harps by Sarah Deere-Jones.
'A Cornish Pastiche' CD by Harpers Bizarre

is a lighthearted 'cornish pasty'

of pieces from traditional, to classical to specially written pieces for harp ensemble.

For details of how to order please go to 'Sheet music and CDs page'
In the last few years our ensemble has been lucky enough to do some exciting trips and concerts, here are some examples!
Seattle and Vancouver April 2008

left, after the concert at Dusty Strings showroom, left to right- Jess, Anne, Honor, Tegen, Morrigan, Charlotte and Sarah.

Right, workshop in Cornish music, R to L, Morrigan, Anne, Honor and Tegen.
Left, view of Seattle from the Bainbridge ferry

Right, At Lori's house in Vancouver!
We would like to thank everyone who went out of their way to give us a fantastic time on this trip, organising the concerts, workshops, meals, transport and accommodation, but in particular we must heap praise and gratitude upon- Beth Kolle, Eileen Warr-Martin and Lori Pappajohn! You are all welcome in Cornwall anytime!
National Harp Day

29th APRIL 2007

As part of the Arpa Viva Cymru symposium's 'National Harp Day' celebrations, Harpers Bizarre performed a concert at the famous Minack Theatre, Porthcurno, near Penzance. Basking in warm sunshine, the audience included seals at the foot of the cliffs and gulls and choughs circling overhead!

From left to right: Pam Adams, Barbara Griggs, Gail Morwood, Lucy Burrow, Anne Hughes and Sarah Deere-Jones.
Wales International harp festival 2006
In April 2006 we were invited to perform at the Welsh festival, surrounded by other professional harpists the ensemble had to perform a lunchtime concert, as well as hold a 'hands on harps' workshop for beginners, and back up a 'jam session for all' in the afternoon.
Above left, hysteria approaches as we get ready for the concert. Middle, everyone concentrating hard during the concert!
Right, at Brynteg holiday park with Eleanor Bennett the festival director.
Denmark June 2006
We were lucky enough to be invited to Copenhagen in June 2006 by Helen Davies and her harp ensemble. As well as a wonderful days sight seeing and socialising we performed a concert at the Virum Kirke on the Sunday evening.
| | | |
| --- | --- | --- |
| | | |
Above, the concert, and centre, sightseeing with Lisbeth and Elsabett!
Harpers Bizarre would like to thank Helen Davies and all her harpists in Denmark for their friendly hospitality and provision of harps during the weekend which was a wonderful experience! We are hoping that one day they may be able to come and visit Cornwall!
We also perform sometimes in Cornwall!
Bude music festival, Cotehele house at Christmas, and busking in Boscastle!
LEFT, the ensemble in its first manifestation in 2004!

With - Honor Bouch, Barbara Griggs, Pam Adams, Sarah Deere-Jones, Liz Rowe, Ann Hughes, Morrigan Brown.
For bookings and more information about the ensemble, contact
info @ cornwallharpcentre.co.uk